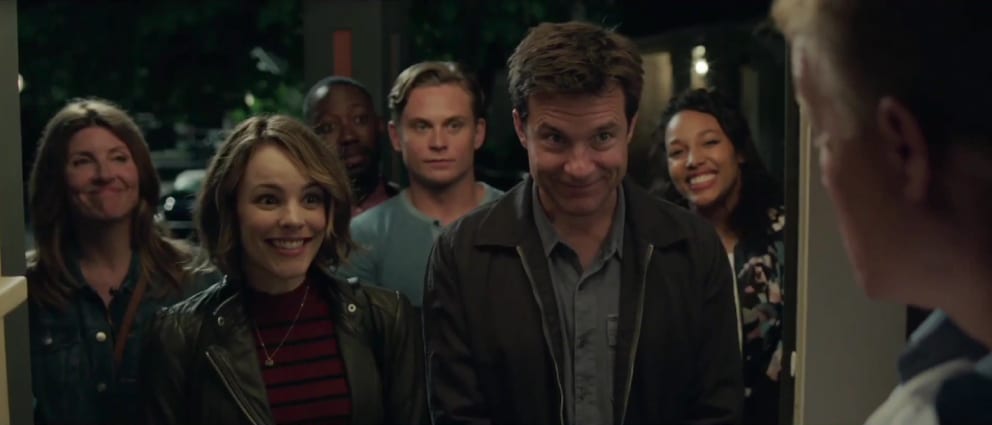 Game Night is a comedy with action elements thrown in there and it's directed by John Francis Daley and Jonathan Goldstein. It stars Jason Bateman, Rachael McAdams, Billy Magnussen, Sharon Horgan, Lamorne Morris, Kylie Bunbury, Jesse Plemons, Michael C. Hall and Kyle Chandler. The movie tells the story of a group of friends who are caught in a heist and they think it's part of their game night which was supposed to take a different turn.
Going into this I expected nothing but a fun time filled with laughter. I was not disappointed. The movie is never boring and is actually really smart and clever in it's plot. There are a lot of positive things I can say about this movie, for instance the cast. Bateman and McAdams shine as the competitive couple with a problem taking their relationship to the next stage. They really play off each other very well and they make a believable couple. Although this movie is mostly about them, they don't hoard the spotlight all to themselves although.
Jesse Plemons plays this creepy and awkward cop and he plays it perfectly, most importantly he doesn't go too far with it. Billy Magnussen plays the not too bright ladies man and there is this one scene where he is trying to bribe someone and it fails horribly and it really shows Magnussen's comedic timing really well. With a cast like this you would expect this film to be a bit crowded but in this case it isn't. Every character gets his/her moment to shine.
One aspect of this movie which I loved was the attention to detail. In certain shots the town is made to look like a board game, it looks like they are in a game which they sort of since it's game night and also the prize of the game is a bright red car like something you would get at the end of a game as the prize. Stuff like this makes me appreciate the movie ten times more. Although they never address this in the movie which is a shame and they never really make it clear if it was intentional because it's done like twice only in the beginning.
One aspect which separates this comedy from other comedies is the score and it's unnecessarily complicated plot. The movie had a very noticeable score which fit perfectly for the action-comedy genre. Now the only flaw I had with this movie was the plot in the third act. While I like the concept for being original and it makes for a lot of laughs, it was stretched in the third act. When it's finally revealed who is behind all of this, it's made clear but then certain events occur and they made me think where could this possibly go or was that the actual reveal or was it a fake one? It gets a tad confusing that's all. As for the ending itself, it was funny and meaningful to the characters and it leaves you with a smile on your face.
Overall Game Night is a clever and original comedy which delivers on the laughs although it can get messy towards the end it's still a perfectly enjoyable comedy and it tries to be something different which is already a plus.
RATING: A-