It's that time of year again, SPOOKY SEASON and while I do love it, Halloween is a complicated holiday when it comes to watching movies with the family. Either the kids are too young, someone's a scaredy cat or someone just doesn't like horror. This list will hopefully solve all your problems.
Most times you go searching for Halloween movies for the whole family you get dumbed-down animated movies that even kids won't like or just movies that have nothing to do with the holiday for example, the live-action Scooby Doo movie or Monsters Inc. Halloween means scares, mild or frightening, these movies have the essence of the holiday. Not only do these movies entertain children but they'll make you feel like a child all over again.
BTW, these are in no particular order. The list features different movies for different ages basically if everyone in the family is older than 12 they have a movie, if the family has a young child they have a movie, you get the idea.
1. Ghostbusters (1984)
---
This is a classic movie. It's not too scary for the young ones, adults will love it, I highly doubt they've never seen it. It's not boring, it doesn't drag, it's the perfect product of fast-pacing, comedy and action. Also while the sequels are nowhere near as great as the original, they also make for an entertaining watch. Also the song alone is worth revisiting this gem of a movie.
Suitable for children 9+ due to a brief intimate scene. It's rated PG so it's not graphic whatsoever but it's going to be awkward for sure but again it's a brief moment.
2.

The Hotel Transylvania Franchise
---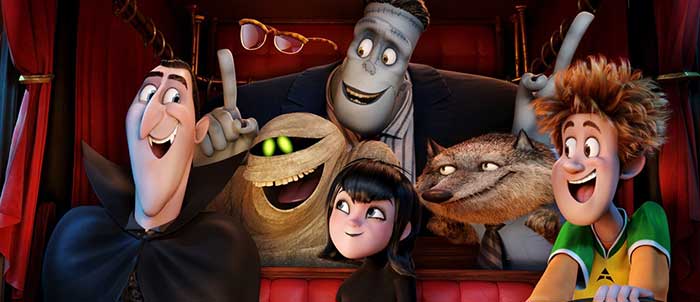 This is in my opinion one of the most underrated animated franchises ever. Sure they're not high-quality entertainment or Oscar worthy but they're not meant to be. I personally love all three movies. They're perfect for the whole family, adults can enjoy the multiple jokes made for them and kids will love everything, from the funny characters. smooth animation and heartwarming stories. The third movie just came out on digital and physical copies in some countries.
Suitable for children 4+ for some mild humorous animated horror.
3. Disney Channel Original Movies 
Like most people, I grew up watching Disney Channel and during Spooky Season they would put out these movies every year, not these four only but these are the movies I loved watching. Till this day I still watching these movies every October. They're the cheesiest, corniest Halloween movies you'll ever find but they're so fun because of that. They're perfect for children, not so much for adults though. However the Halloweentown movies are watchable for adults, and to a certain point even Mom's Got A Date With A Vampire. They're perfect for the little ones during this time of year and if the adults were to sit down with them, they wouldn't be too annoyed. My personal favourite is Twitches, it's a classic. I watch it religiously every October.
Suitable for everyone.
---
Problem with Preteens.
Now the thing with Halloween is that kids and teens love it, adults like/love it but preteens are a bit neglecting of the holiday.  They're at that age where Halloween movies are either too scary, too cheesy or too childish. These three movies are perfect for every one of  those situations. If they think Halloween is for kids, show them a scary movie. If they don't like scary stuff, show them a cheesy Halloween movie.  If they think it's too cheesy and over the top show them a more mature movie.
4.

Hocus Pocus

(cheesy fun)
Sadly, (not really) I didn't grow up with this movie, I only watched it for the first time two years ago, I don't really get all the hype to be honest. While this movie is not for children, it's a good movie for preteens and up. It's fun and wacky and really really cheesy. Fun Fact: this was actually supposed to be a Disney Channel movie but they decided to put it in cinemas thanks to the big names attached. If you think a nine or ten year old can handle it go ahead, it's not something traumatizing, it's just that certain children are more sensitive and curious than others.
Suitable for preteens specifically 11/12 and up in my opinion.
5

.

A Quiet Place

 

(scary and intense)
---

This movie is clearly not for children but I would highly suggest this preteens. This is my favourite movie of the year and for many reasons. It's creepy and intense for it's whole runtime. It will most definitely make for a unique experience. It's not too scary for adults, it's definitely extremely intense although. Preteens and teens will love the idea and the suspense and it's a lot more fun to watch as a group instead of watching it alone.
Suitable for kids who are 12+. In America it was rated PG-13 so it's not that bad but it's definitely NOT for children.
6.
Stephen King's IT (1990)
(mature but not too scary)
---
While the newer version of IT is more explicit this version is the downgraded version of that and I don't mean that in a negative way. This miniseries helped to horrify millions of children in the nineties however with the dated effects and scares, children are more immune to it. However it's still creepy and mature. It is perfect starter for newcomers to the horror genre, the newer version is what got me into horror so I'm thankful for that. Adults will enjoy the nostalgia and brilliant Tim Curry performance and the younger viewers will be invested in the story and the scares.
Suitable for preteens, specifically 12/13 and up. Some mild horror with extreme creepiness and some mature themes (abusive drunk, dead people).
---
Hope this helped with your spooky movie nights. If this post does well, I'll do a similar post but with instead it would be about Best Halloween Episodes.
Happy Early Halloween!!!!